ANGKASAREVIEW.COM – Sutradara Peter Jackson dikenal sebagai pembuat film kondang. Trilogi Lord of The Rings adalah buah karyanya. Sutradara kelahiran Wellington, Selandia Baru 1961 ini berhasil membuat gebrakan di akhir 2018 lalu. Ia membuat film dokumenter yang berasal dari replikasi kejadian nyata (footage) Perang Dunia I.
Uniknya, Peter Jackson menyajikannya dalam film berwarna atau biasa disebut proses re-coloring.
They Shall Not Grow Old, awalnya akan dibuat tahun 2015. Namun, baru terlaksana pada November 2018.
Bagi Peter Jackson film dokumenter ini menjadi bagian hidupnya. Pasalnya, William Jackson, kakek dari Peter Jackson ikut berlaga di perang terkelam tersebut.
Ayah Peter Jackson selalu bercerita tentang keberanian kakeknya saat bergabung dengan Resimen South Wales Broderers.
Merestorasi film tentu tidaklah mudah. Apalagi harus mengumpulkan rekaman 200 veteran PD I sebagai bagian dari film.
Berbeda dengan Perang Dunia II, pada PD I rekaman film sangatlah langka karena keterbatasan peralatan kamera pada saat itu. Untungnya, Peter Jackson dibantu oleh Imperial War Museum dan stasiun televisi BBC untuk mewujudkan film dokumenter ini.
Beragam footage menarik yang bisa pembaca Angkasa Review lihat dalam film ini, salah satunya adalah rekaman beberapa prajurit menaiki tank pertama di dunia, Mark I Tank.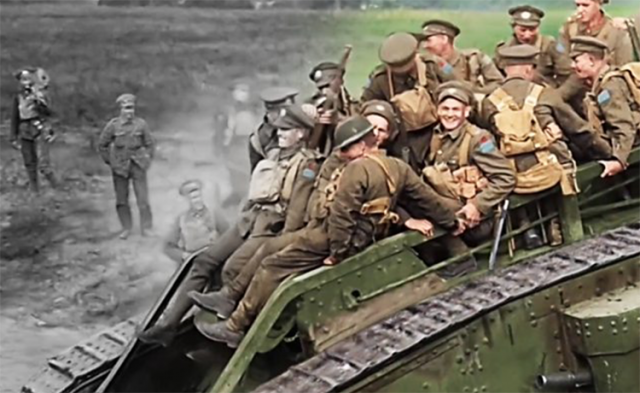 Sejumlah tentara Inggris juga terlihat menggunakan brodie helmet yang sangat terkenal itu. Film ini juga menyajikan gambaran mengenai kebrutalan perang yang sangat menyedihkan dan para tawanan yang dimasukkan ke dalam sel kurungan.
Perlu pembaca Angkasa Review ketahui, judul They Shall Not Grow diambil dari potongan puisi karya Laurence Binyon yang berjudul For the Fallen. Sayangnya, film ini baru ditayangkan secara terbatas di sejumlah tempat, bahkan baru dirilis resmi di Amerika Serikat pada awal 2019.
Bagi para pembaca Angkasa Review yang ingin menyaksikan film ini, mungkin harus sabar menunggu atau mencari di web film luar negeri.
(RND)