AIRSPACE REVIEW (airspace-review.com) – Sejumlah foto helikopter terbaru CH-47F Chinook pesanan Singapura untuk Republic of Singapore Air Force beredar di lini masa melalui akun facebook Scramble Magazine.
Diberitakan, heli pertama telah melaksanakan penerbangan perdana di fasilitas produksi Boeing Chinook di Ridley Township, Pennsylvania.
Helikopter CH-47F RSAF dengan nomor serial 88160 (nomor konstruksi pabrik M2071) dan registrasi N271GG itu difoto ketika berada di Wilmington, New Castle, Delaware.
Ditambahkan dalam keterangan tersebut, sejauh yang diketahui Singapura telah memesan 8 CH-47F. Namun menelusuri pendaftaran di FAA, terdapat 16 unit Chinook yang akan diproduksi dengan nomor konstruksi pabrik M2071 hingga M2086. Bisa jadi semuanya pesanan untuk RSAF.
Singapura sendiri, menurut Defense News, tidak mengumumkan berapa banyak memesan CH-47F untuk menggantikan armada lama 16 CH-47SD yang saat ini masih digunakan sejak tahun 1994. Helikopter-helikopter ini dioperasikan oleh Skadron 127 di Sembawang dan Detasemen 5 di Oakey, Queensland, Australia untuk program pelatihan.
Singapuratahun 2016 membeli sejumlah CH-47F melalui kontrak
Direct Commercial Sales
(DCS) dengan Boeing selaku produsen CH-47F.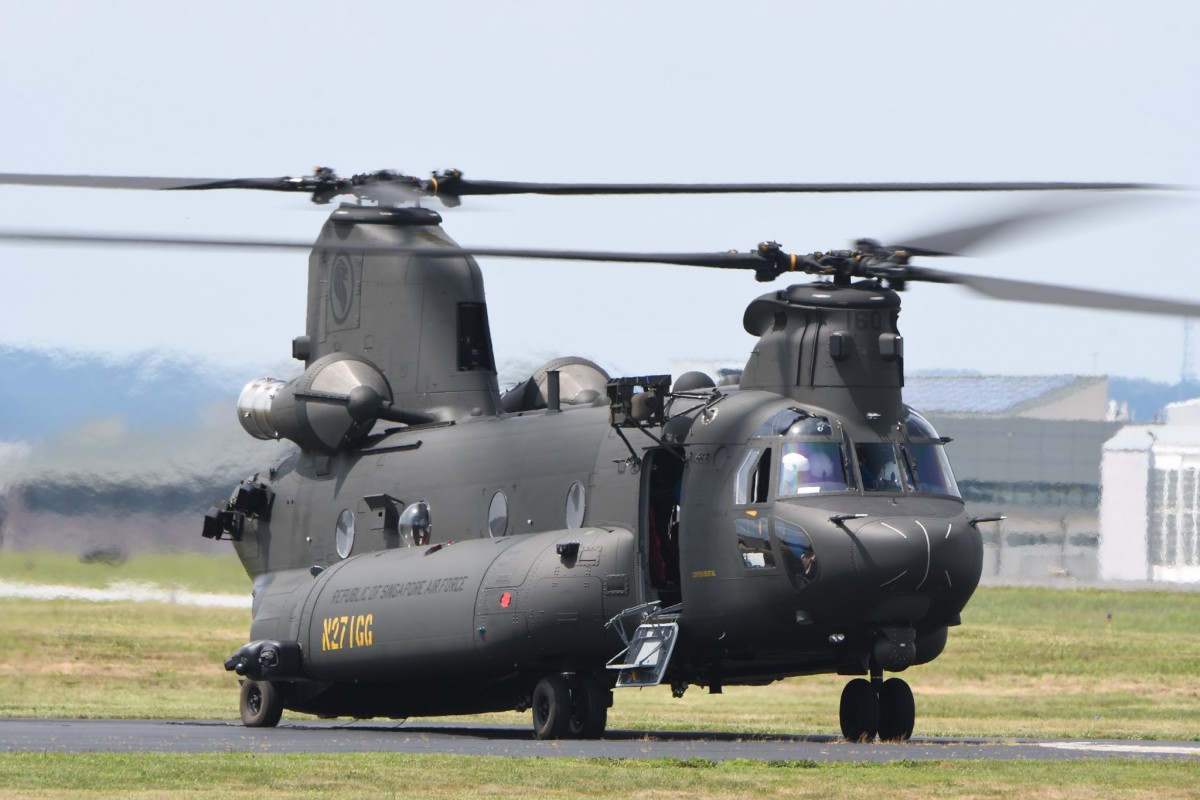 CH-47F merupakan versi upgrade dari CH-47D. Model ini terbang perdana pada 2001. Kemudian, seri produksinya diluncurkan pada 15 Juni 2006 dan melakukan penerbangan perdana pada 23 Oktober di tahun yang sama.
Sejumlah peningkatan perangkat dan kapabilitas diterapkan pada CH-47F. Antara lain penggunaan mesin baru dan rangka konstruksi yang lebih mudah untuk perawatan, masa penggunaan yang lebih lama, instrumen di kokpit yang lebih modern, dan tingkat vibrasi yang lebih rendah.
Singapura memesan sejumlah varian khusus dari CH-47F, yaitu versi Search and Rescue (SAR), Aeromedical Evacuation (AME), dan Humanitarian Assistance and Disaster Relief (HADR).
Roni Sontani