AIRSPACE REVIEW (airspace-review.com) – Pesawat C295 pertama pesanan Kanada untuk Angkatan Udara Kanada (Royal Canadian Air Force -RCAF) telah diluncurkan dari Hanggar Pengecatan Airbus Defence and Space (Airbus DS) di Seville, Spanyol pada 8 Oktober lalu.
Pesawat berlabur kuning-merah yang oleh Kanada diberi kode CC-295 ini diakuisi melalui program Fixed Wing Search and Rescue Aircraft Replacement (FWSAR).
Warna cerah yang mencerminkan pesawat SAR dipertahankan Kanada sejak 1970-an agar mudah terlihat, baik di udara maupun di darat.
Saat ini pesawat tengah menuntaskan penyiapan akhir di Seville sebelum diserahterimakan pada akhir tahun ini.
Kanada menandatangani kontrak pengadaan C295 dengan Airbus DS pada Desember 2016. C295 dipilih setelah menyisihkan dua kompetitor lainnya, yaitu Leonardo C-27J Spartan dari Italia dan Embraer KC-390 dari Brasil.
Airbus DS
Sebanyak 16 CC-295 diakuisisi Montreal termasuk dukungan suku cadang, pelatihan, layanan teknik, hingga pembangunan pusat pelatihan baru di Comox, British Columbia — salah satu lokasi di mana C295 akan ditempatkan di basis-basis pesawat SAR Kanada.
Setelah penyerahan pesawat pertama, Airbus DS akan menyerahkan enam pesawat berikutnya di tahun depan. Pesawat-pesawat tersebut saat ini masih menjalani uji coba.
Selain itu, akan diserahkan juga tujuh simulator dan alat-alat pelatihan lainnya.
Menilik tampilan C295 dari luar, tampak tak terlihat banyak perbedaan dengan pesawat C295 lainnya. Namun demikian, pesawat varian angkut dan misi khusus untuk RCAF ini sejatinya memiliki sejumlah fitur modern.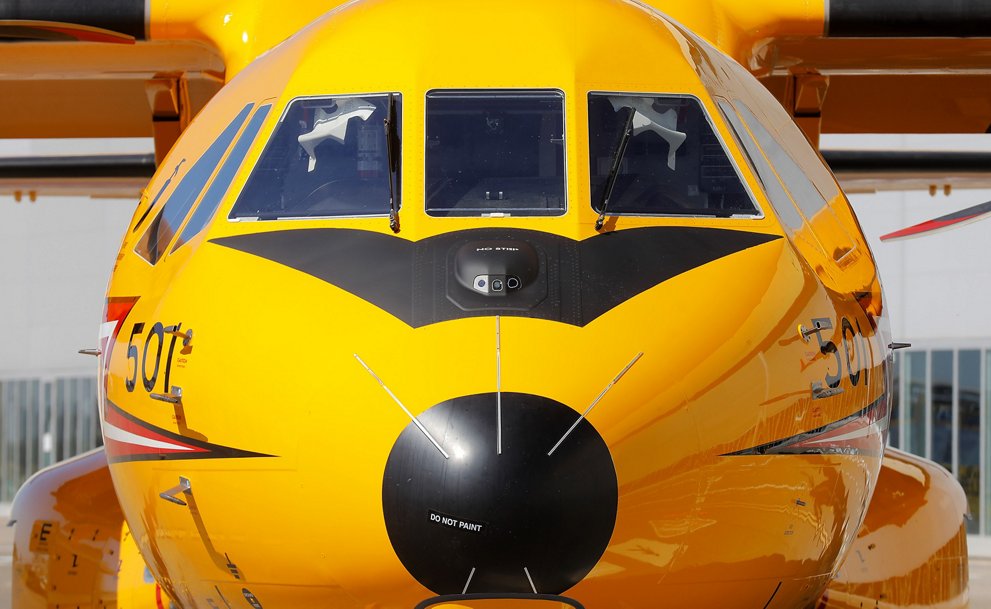 Dijelaskan oleh Kepala Pemasaran C295 Ioannis Papachristofilou kepada media di Jerman, Rabu, CC-295 mengusung beragam perangkat avionik dan sistem lainnya yang lebih maju.
Di antaranya penggunaan Collins Aerospace Pro Line Fusion dengan layar sentuh 14,1 ini, perangkat night-vision goggle (NVG), head-up display (HUD), sistem penglihatan sintetic canggih (ESVS), radar cuaca permukaan, sistem peringatan dan kewaspadaan daratan (TAWS), dan lainnya.
Di bagian bawah pesawat, roda pendarat dilengkapi deflektor kerikil guna mencegah kerusakan pada bodi pesawat saat melaksanakan operasi di landasan kasar.
Bodi bagian bawah juga diperkuat untuk peningkatan ketahanan saat melakukan pendaratan darurat di air (ditching). Ada juga pintu penyelamatan di bagian atas depan pesawat.
Perangkat-perangkat modern ini disertakan dalam pesawat sesuai dengan pesanan operator.
Seluruh 16 CC295 akan menggantikan 6 de Havilland Canada CC-155 Buffalo dan 13 CC-130H Hercules di Satuan Armada SAR Sayap Tetap RCAF (FWSAR).
Roni Sontani