ANGKASAREVIEW.COM – Mantan Mission Commander Jupiter Aerobatic Team (JAT) atau The Jupiters Marsma TNI Ir. Novyan Samyoga, M.M dilantik menjadi Kepala Dinas Penerangan Angkatan Udara (Kadispenau) menggantikan Marsma TNI Jemi Trisonjaya, M.Tr (Han).
Pelantikan dipimpin oleh KSAU Marsekal TNI Yuyu Sutisna, S.E, M.M di Mabesau, Cilangkap, Jakarta Timur, Selasa (22/5).
Novyan Samyoga yang juga mantan Komandan Lanud Adisutjipto, Yogyakarta merupakan satu angkatan dengan Jemi Trisonjaya semasa menjadi taruna di Akademi Angkatan Udara (AAU). Keduanya lulus AAU tahun 1989.
Kiprah Samyoga di Lanud Adisutjipto terbilang cukup besar sekaligus membawa nama harum tim aerobatik TNI AU The Jupiters di kancah internasional, yaitu dalam penyelenggaraan pameran kedirgantaraan di Malaysia dan Singapura.
Bagi penerbang Hawk Mk.53 dan Hawk 100/200 yang mantan ajudan Wapres Boediono ini, jabatan Kadispenau merupakan job bintang satu keempat kali yang ia emban. Sebelumnya Samyoga menjabat sebagai Kadisfaskonau (fasilitas dan konstruksi), Pangkosekhanudnas I Jakarta, serta Danlanud Adisutjipto.
Sementara Jemi Trisonjaya yang juga berhasil menjalankan tugasnya sebagai Kadispenau dengan baik sejak Agustus 2016, selepas ini menjabat sebagai Kepala Dinas Operasi dan Latihan TNI AU (Kadisopslatau) menggantikan Marsma TNI Tamsil Gustari Malik, S.E yang telah dilantik menjadi Pangkoopsau III.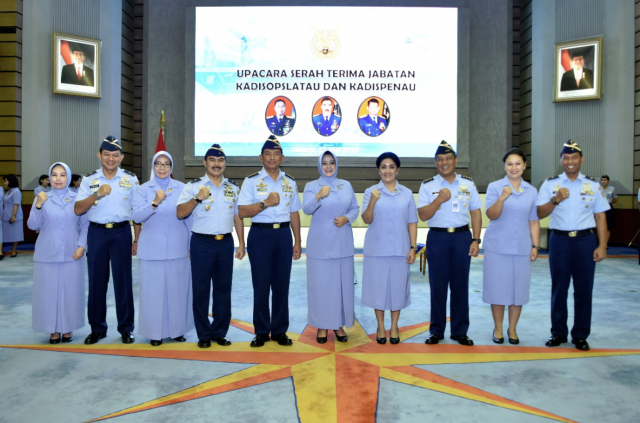 Dispenau
Bagi Jemi, mantan Korsmin Panglima TNI semasa Jenderal Moeldoko dan Jenderal Gatot Nurmantyo, jabatan Kadisopslatau merupakan job bintang satu ketiga yang ia emban setelah menjadi Pangkosekhanudnas III Medan dan Kadispenau.
KSAU mengatakan, di lingkungan TNI AU Kadisopslatau dan Kadispenau merupakan jabatan yang strategis. Kadisopslatau berperan dalam pembinaan kegiatan operasi dan latihan TNI AU, sementara Kadispenau bertanggung jawab sebagai pembina dalam pengelolaan informasi untuk membangun citra  positif TNI AU.
"Mencermati jabaran tugas kedua jabatan tersebut, maka diperlukan pemahaman yang akurat dan tindakan yang tepat dari pejabat Kadisopslatau dan Kadispenau," ujar KSAU.
RONI SONTANI