ANGKASAREVIEW.COM – Sebelumnya telah dijelaskan bila pasukan khusus Rusia memiliki jumlah unit yang sangat banyak. Berikut ini informasi Spetsnaz yang berasal dari Pasukan Payung VDV dan Kepolisian Rusia.
VDV 45th Separate Airborne Reconnaissance Regiment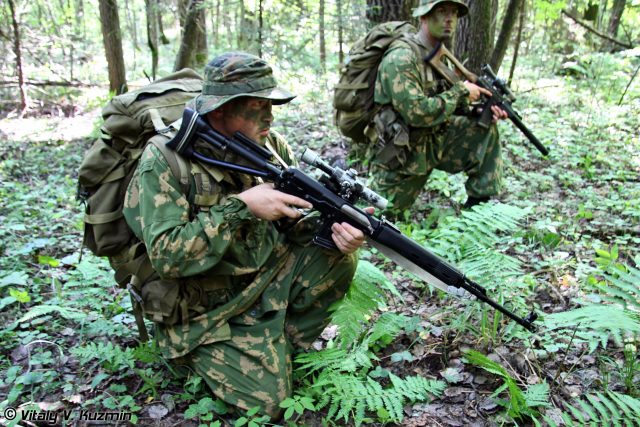 Rusia
VDV 45th Separate Guards Order of Kutuzov Order of Alexander Nevsky Special Purpose Regiment atau lebih dikenal dengan sebutan 45th Separate Airborne Reconnaissance Regiment. Menyandang gelar "Guards" membuat resimen ini sangat elite. Sudah menjadi hal lumrah di Angkatan Bersenjata Rusia, jika menyandang julukan "Guards" otomatis unit tersebut digolongkan dalam satuan elite. Unit 45TH Recon berada di bawah kendali pasukan payung atau VDV. Tugas utama unit ini adalah sebagai pasukan pengintai dan serbuan khusus. Kiprah unit ini telah teruji dalam Perang Chechnya dan operasi tempur di Pegunungan Kaukakus.
SOBR
Rusia
SOBR (Spetsial'nye Otryady Bystrogo Bystrogo Reagirovaniya) adalah salah satu pasukan berkemampuan Spetsnaz yang dimiliki oleh Kepolisian Rusia di bawah kontrol MVD (Kementrian Dalam Negeri). Unit ini didirikan pada 2002 dengan nama awal OMSN. SOBR memiliki tugas dan kemampuan seperti SWAT, dengan tugas utama menangkap teroris dan antiteror. Salah satu operasi tempurnya berada di wilayah Dagestan di mana SOBR harus beradu nyawa melawan militant Chechnya.
SSO
Rusia
SSO merupakan pasukan khusus Rusia yang paling rahasia dan paling muda dari segi usia dibandingkan GRU dan VDV 45th . Berdirinya unit SSO pada tahun 2002 merupakan jawaban atas reorganisasi di tubuh Angkatan Bersenjata Rusia, sehingga diputuskan untuk mendirikan unit yang memiliki kemampuan beroperasi jauh di luar wilayah Rusia dengan tugas penanggulangan teror dan penyerbuan presisi. Bila dibandingkan dengan pasukan khusus di Amerika Serikat, SSO sangatlah mirip dengan Delta Forces milik US Army. Walaupun tergolong unit baru, SSO sudah merasakan operasi tempur yang tergolong berat. Salah satunya adalah Perang Suriah di mana tugas utama SSO melakukan operasi perburuan petinggi ISIS. Tugas ini biasa disebut dengan misi HVT (High Value Target). JULIUS RENDY NUGROHO