AIRSPACE-REVIEW.com – Ada yang spesial dalam Latihan Gabungan (Latgab) TNI 2019 yang berlangsung di Pusat Latihan Tempur Marinir Asembagus, Situbondo Jawa Timur pada 9-12 September. Yakni, digunakannya untuk pertama kali drone intai serang CH-4 Rainbow buatan China.
Sebelumnya banyak beredar foto CH-4B di dunia maya. Keberadaan dua unit drone CH-4 di Pangkalan Udara Angkatan Laut (Lanudal) Juanda, Sidoarjo, Jawa Timur ini menjadi perbincangan netizen Tanah Air penyuka dunia militer.
Ternyata drone ini memang sedang diujicobakan dalam Latgab TNI bersandi "Dharma Yudha" tersebut.
Dikutip dari antaranews.com, drone CH-4B diterbangkan/dikendalikan awak darat dari Surabaya (Sidoarjo – Red) menuju medan tempur di Situbondo.
Diketahui CH-4B memiliki jangkauan operasional sejauh 1.000 km saat menggunakan sistem BLOS (beyond line of sight) berpemandu satelit. Drone memiliki durasi terbang 12-14 jam tergantung muatan misi.
Dalam Latgab tersebut, CH-4B meluncurkan rudal dan bom dari ketinggian 15 ribu kaki (4.572 m) dan berhasil menghancurkan target dengan presisi.
Disebutkan, CH-4B merupakan salah satu alutsista yang akan diakuisisi dalam Rencana Strategis (Renstra) TNI Tahap II tahun 2019. Rencananya akan didatangkan enam unit tambahan untuk mengisi dua skuadron intai baru TNI AU.
Mengenai kisah CH-4, drone kelas MALE (Medium Altitude Long Endurance) ini mulai dikembangkan pada 2010 oleh Akademi ke-11 China Aerospace Science and Technology Corporation (CASC).
Drone berjuluk Cai Hong (Rainbow) ini menjalani penerbangan perdana pada September 2011. Selanjutnya mulai berdinas dalam layanan Tentara Pembebasan Rakyat-Angkatan Udara (PLAAF) pada 2013.
Secara kasat mata tampilan luar dan dimensi CH-4B sangat identik dengan drone serang populer buatan General Atomics MQ-1 Predator. Bedanya, drone ini mengadopsi sirip ventral berbentuk V seperti ekor MQ-9 Reaper.
CASC membuat dua varian CH-4. Pertama, seri CH-4A sebagai pesawat intai dengan jangkauan antara 3.500 – 5.000 km dan berdaya tahan hingga 30 jam. Kedua, CH-4B varian intai bersenjata yang dapat melakukan serangan darat.
Sebagai tenaga penggerak, CH-4A dan CH4-B menggunakan mesin TD0 berdaya 150 kwh yang dikembangkan oleh Combustion Engine Research Institute of Tianjin University.
Kecepatnya jelajah CH-4A dan CH-4B berada pada kisaran 150-180 km/jam dan ketinggian terbang maksimum hingga 8.000 meter.
Muatan sensornya mencakup kubah elektro-optik yang menggabungkan perangkat forward-looking infrared (FLIR), laser rangefinder, dan laser designator yang memiliki jangkauan maksimum 15 km.
CH-4A dan CH-4B juga dibekali synthetic aperture radar (SAR) yang bisa mendeteksi sasaran yang diselimuti asap atau awan dengan jangkauan maksimum 30 km.
Kontainer sistem pengendali di darat (GCS) ditempatkan di atas sebuah truk dengan empat awak di dalamnya yang. Terdiri dari pilot, operator komunikasi, operator senjata, dan operator pengintaian elektro-optik.
Awak di darat hanya membutuhkan waktu setengah jam untuk menyiapkan misi terbang drone ini.
Keberadaan CH-4B mencuat seketika di kala Kementerian Pertahanan Irak merilis video penyerangan ke sarang ISIS menggunakan drone CH-4B kepada pers pada 13 Oktober 2015.
Aksi berdarah pertama drone CH-4B dilakukakan tiga hari sebelumnya, berupa serangan udara terhadap kelompok ISIS yang beroperasi di wilayah Al-Anbar, Irak.
Dalam operasi tersebut CH-4B dilengkapi dengan rudal udara darat ringan AR-1 buatan Norinco yang setara dengan rudal AGM-114 Hellfire racikan Lockheed Martin, Amerika Serikat (AS).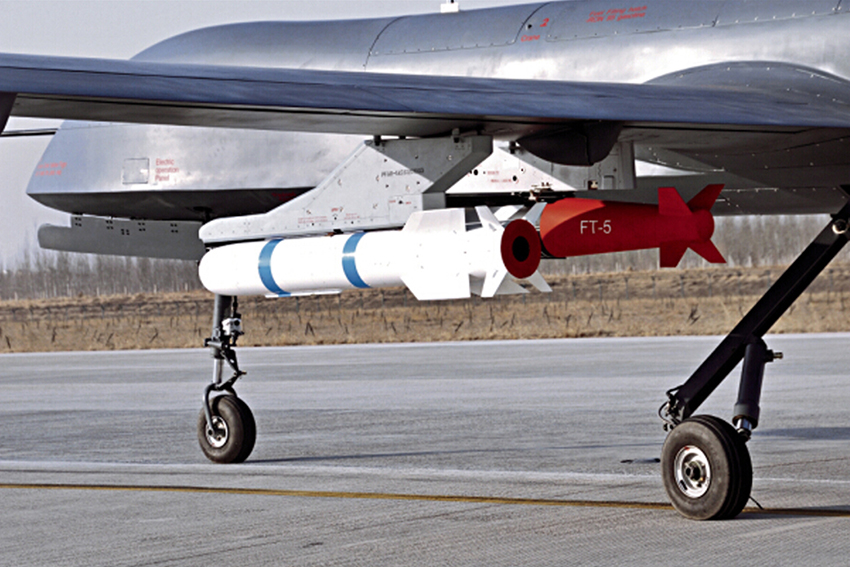 Dengan keberhasilan penggunaannya dalam perang sesungguhnya, CH-4B berhak mendapatkan cap battle proven.
Tentunya ini menjadi nilai tambah tersendiri untuk CH-4B. Selain harganya yang lebih miring dibanding pesaingnya MQ-1 dan MQ-9 dari AS.
Rangga Baswara Sawiyya
editor: ron raider