AIRSPACE REVIEW (airspace-review.com) – Kedatangan dua pembom strategis Angkatan Kedirgantaraan Rusia Tu-160 Blackjack di Waterkloof Air Force Base, Centurion, Provinsi Gauteng, Afrika Selatan pada Rabu, 23 Oktober, disambut oleh kawanan Hawk 120 dan Saab Gripen Angkatan Udara Afrika Selatan (SAAF).
Kedua pembom nuklir Rusia yang ditemani pesawat angkut An-124 Ruslan dan Il-62 Classic mendarat di Waterkloof, sore hari pukul 16.00 waktu setempat.
Tidak ada pesawat tempur Rusia yang mengawal penerbangan keempat pesawat.
An-124 membawa peralatan pendukung yang dibutuhkan Tu-160. Sementara Il-62 yang berkapasitas 200 orang membawa rombongan pejabat militer dan jurnalis.
Ini adalah kunjungan pertama kali Tu-160 ke Tanah Afrika. Dua pembom 'Angsa Putih' terbang non-stop dari Negeri Beruang ke Benua Hitam melewati rute yang tidak lazim.
Diberitakan The Aviationist, Hawk 120 dan Gripen C/D SAAF terbang dari Makhado Air Force Base guna mengawal kedatangan Blackjack. Di Waterkloof AFB sendiri memang tidak terdapat skadron tempur SAAF.
Kerja sama Kementerian Pertahanan Rusia dan Afrika Selatan dibangun sejak 13 Juni 1995. Kunjungan Tu-160 kali ini merupakan bagian dari dilaksanakan kerja sama militer kedua negara.
Sedianya, Tu-160 pertama kali akan datang ke Afrika Selatan pada 2016 dalam perhelatan Africa Aerospace and Defence (AAD). Namun, hal itu batal karena pada periode tersebut Tu-160 melaksanakan beragam misi di Suriah.
Kedatangan dua Blackjack di Afrika Selatan memberi pesan diplomatik kepada dunia. Sama halnya ketika pembom strategis ini telah mendarat di Venezuela, Amerika Selatan pada 2003, 2008, dan 2018.
Mendaratnya Tu-160 di Waterkloof, bersamaan waktunya dengan pelaksanaan Konferensi Rusia-Afrika di Sochi, Rusia pada 23-24 Oktober. Konferensi yang pertama kali dilaksanakan ini dihadiri oleh 43 pemimpin negara dan 3.000 delegasi dari Rusia dan Afrika.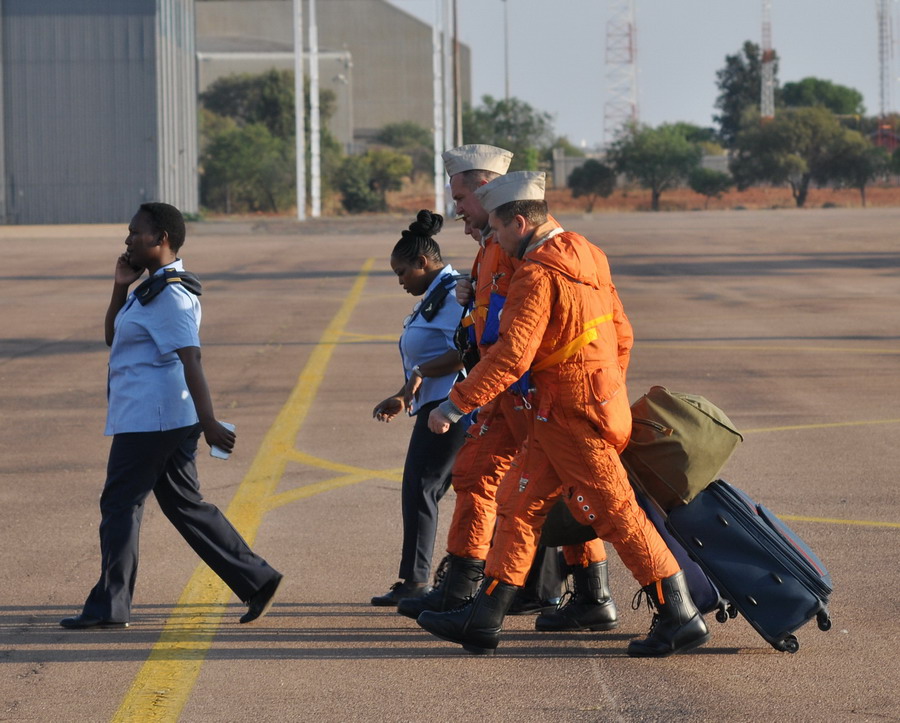 Pengamat mengatakan, Rusia tengah bersaing menanamkan pengaruh di Benua Afrika. Bersaing dengan Amerika Serikat dan China.
Roni Sontani